This post is sponsored by Sivan Social. All comments and opinions are my own.
Honestly, it feels like skin care shouldn't be that complicated, right? However, every time I find myself in the skin care aisle (or should I say aisles), I feel overwhelmed. It's so hard to find a product that is effective, fits my budget, and won't irritate my sensitive skin. And don't even get me started on bath and body products for my kiddo!
There's nothing quite so distracting as itchy, irritated skin. (Trust me, after trying what feels like every different skin and body product out there, I know!) To help my little man avoid that truly uncomfortable feeling, I've always been super careful about the products I choose for him. That's why I was so thrilled to discover Baby Magic.
Baby Magic is a line of bath and body products, including shampoo, body wash, baby lotion, and wipes, that has been trusted by parents for over 65 years. Why are Baby Magic products a must-have for parents (and recommended by dermatologists)? Just take a look at the ingredients list!
Hint: It's as much about what is not included as what is included!
Baby Magic products are free of
Parabens
Phthalates
Sulfates
Dyes
What's left is a heaping dose of wholesome (and pronounceable!) ingredients like coconut oil, Shea butter, lavender, chamomile, and aloe.
My favorite Baby Magic product is the Gentle Baby Lotion. This was the first lotion I ever used on Ian. To this day, the smell of it always takes me back to his first months.
I selected the Baby Magic Gentle Baby Lotion for my newborn because of what wasn't in the lotion—specifically parabens, phthalates, sulfates, and dyes. Plus, it was (and still is) hypoallergenic. After just one use, I was hooked!
The Gentle Baby Lotion was so smooth and it absorbed like, well, magic! 🙂 It wasn't greasy or tacky at all.
Plus, since it was gentle enough for a baby's skin, I figured it could pull double duty and be used for the rest of the family, even my sensitive skin—and I was right.
Another thing to love about Baby Magic is the price tag. I would never sacrifice my family's well-being just to stay on a budget, but it's always nice when you can check off both boxes, right? Well, with Baby Magic you can.
The products are always affordable and you can frequently find coupons to further cut costs. For example, right now you can save $1 on any one Baby Magic product. Print the coupon below!

You can also spot Baby Magic products at Amazon. Check them out here! An added bonus is that many of the Baby Magic products are either eligible for Amazon Prime (which means free shipping for members) or are part of the "Subscribe & Save" program, which means you can save big by having them auto shipped to you!
Double bonus, you may be able to save an additional $1 (for a total of $2) on a Baby Magic product if you receive Valpak. Select households will be receiving an additional $1 coupon so make sure to open your next Valpak envelope!
And if all of that wasn't reason enough to be a Baby Magic fan, this should push you over the edge. This September, savings.com is giving away ten $100 Visa e-gift cards on behalf of Baby Magic.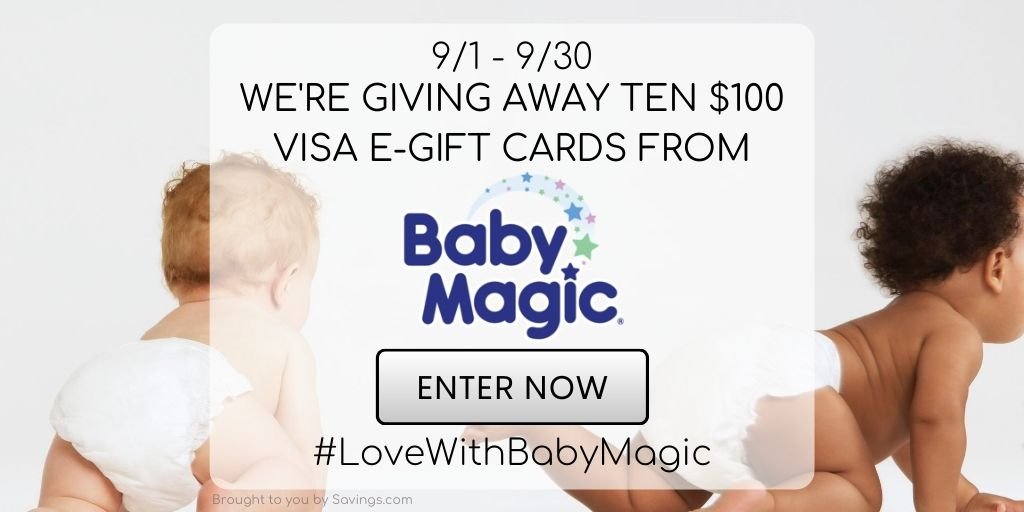 Yep, it's practically like Baby Magic is paying you to try their totally awesome products.
The savings.com giveaway starts on September 1st (at 12:00 a.m. pt) and runs through September 30th (until 11:59 p.m. pt). That's 30 whole days to enter, so even us busy moms should be able to find the time to participate! Plus, entering is super simple.
Just head to the "Grocery" page on savings.com and enter your email address. Go here to enter for a chance to win a $100 Visa egift card!
Yep, seriously, it's that easy.
The ten lucky winners will be selected through a random drawing and notified on October 1st.
So, what are you waiting for? Enter the savings.com giveaway, and you could win a $100 Visa e-gift card courtesy of Baby Magic. Then head to your mailbox to look for that extra bonus coupon from Valpak. After that, it's time to start shopping! Again, you can explore the full Baby Magic product line on Amazon.
*You can find the savings.com giveaway official rules here.