This post is sponsored by Savings.com. All opinions expressed are my own.

Kick Foot Pain to the Curb with Help from Dr. Scholl's
As a busy mom (what other kind is there?), who is almost always on the go, I regularly find myself thinking, "Man, my feet are tired!"
By the way, why do we say "my feet are tired." My feet aren't tired. They're sore and achy!
Anyway… at the end of a long day, I frequently turn to my favorite homemade foot soak, but one day, the hubby asked me why I just treat foot pain versus trying to prevent it in the first place.
And, you know what, he was right!
(I know, I shouldn't be shocked. He has been right once or twice before. 😉 )
That's when he introduced me to Dr. Scholl's, and the good doctor pepped my feet right up.
My husband has been using Dr. Scholl's® Custom Fit® Orthotic Inserts for about a decade. The doctor suggested husband give them a try after he started experiencing back pain. Sure enough, they did the trick!
Here are just a few of the reasons Dr. Scholl's® Custom Fit® Orthotic Inserts are just what the doctor ordered (literally for the hubby):
They work! Yep, they can truly help with "tired" feet, back pain, knee pain, etc.
They're quick and easy to get. (More on that in a minute.)
You get a custom to you product.
They're relatively inexpensive, especially compared to other custom inserts. Plus, you can take advantage of an awesome coupon to save even more!
They last a long time. In fact, my husband says he's only had to replace his once in the entire time he's been using them.
To get your very own Dr. Scholl's® Custom Fit® Orthotic Inserts, just visit your local Walmart and head to the pharmacy area. They'll have a Dr. Scholl's kiosk that'll guide you through the process. You'll stand on the marked area, and it'll use 2,000 pressure sensors to create your unique FootMap. Based off of your personal FootMap, the kiosk will recommend the size/product you need. It's that easy!
Bonus: Right now, you can save $10 on your Dr. Scholl's® Custom Fit® Orthotic Inserts from Walmart with this exclusive coupon.
Want to save even more on Dr. Scholl's? Of course you do! Check your Valpak envelope for an additional awesome coupon.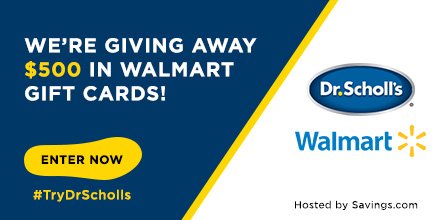 Oh, and how would you like to snag a $50 Walmart gift card? Sounds pretty awesome to me; if you don't want it I'll take it off your hands! 😉 To be entered to win, just head to savings.com and submit your email address between August 21st at 12:00 AM ET and August 27th at 11:59 PM ET.
Ten lucky winners will get $50 Walmart gift cards. Winners will be notified on Monday, August 28th! Go here to read the official rules.
Good luck!
Oh, and let me know how those Dr. Scholl's® Custom Fit® Orthotic Inserts are working out for you in the comments!